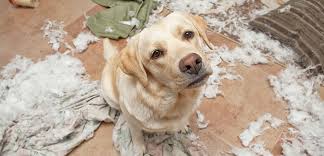 Dogs are very social animals, and being alone can be quite stressful for many dog breeds. Unlike cats, they don't know how to enjoy their own company as they look up to their owners for affection, attention, protection, and everything in between. Most dog owners are familiar with the sight of their dog being sad as they leave the house for work or to go on a vacation. The most common reason for such canine behavior is pet anxiety, which is one of the top reasons Animal Smart Pet Care offers pet sitting and dog walking services. 
What is anxiety in dogs?
Anxiety is a prevalent mental disorder found in people, but we are now seeing it in our pets. There are many different types of pet anxiety, but one of the most common kinds is separation anxiety. Separation anxiety is triggered when dogs get nervous because of the separation from their human owners. Some dogs even try to stop their owners from leaving while others become anxious or depressed prior to the departure of their pet parent.
Other causes of anxiety include: 
Traumatic experience/abandonment
Illness or disease
Pain
Loud noises (fireworks, thunderstorms, vacuums)
Side effects of prescribed drugs
Symptoms of anxiety in dogs
Much like humans, the autonomic nervous system of dogs produces the stress hormone called cortisol, and this could trigger a wide range of reactions, including:
Excessive barking
Trembling
Panting
Hiding
Loss of appetite
Destructive behavior
Attempts at escape
Tail tucking
Aggressive behavior (biting, nipping, snapping)
Urinating indoors
Excessive energy
How to help your dog manage anxiety
1. Dog walking
Hiring a dog walker for your dog is a wonderful way to ease anxiety and stress. Dog walking helps relieve excess pent up energy and tension, providing a natural, safe outlet for your pup. A tired dog is a well-behaved dog. He's worn out and just wants to take a nap. At Animal Smart, we provide one-on-one walks, playtime, and spending quality time with your dog while you're away at work or when you're on vacation. 
2. Pet sitting
One reliable way to help your pet cope with anxiety is to keep him company by spending plenty of time with him. If spending time is not an option for you because of the nature of your job, consider finding a loving pet sitter for your canine companion. That way, your pet will be in a familiar environment while enjoying the undivided attention of a human.
3. Change the way you leave
An excellent way to help your dog is to change the way you leave. Rather than walk back and forth to pick an item you forgot, make a mental list of everything you would need while away and take them with you at a go. It also helps to keep greetings and departures calm without drama, so your dog doesn't get stressed when you leave. Similarly, you might want to change your "leaving ritual," so your dog doesn't recognize signs that you're about to leave.
Wrap-up
Quite a number of dogs suffer from one form of anxiety or the other. The above tips are effective ways to calm an anxious dog, especially for those who have to leave home for work daily or part company with your furry friend for some days. At Animal Smart Pet Care, we offer pet sitting and dog walking services to help ease your dog's anxiety and stress while you're away.