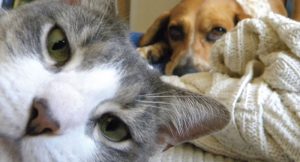 If you don't really like to leave your pet at home when you go out of town, be reassured that you're not alone. Many pet owners are uncomfortable with the idea of leaving their furry friend alone at home. Whether you need to go out of town urgently or you need to take a long vacation, opting for Animal Smart pet sitting is a great choice as it offers a lot of benefits. Let's take a look at how a pet sitter may be the best choice for your furry friend.
Reduced risk of getting sick
One of the options many pet owners consider when they need to leave home is driving their pet to a boarding kennels but may put your four-footed companion at risk of getting ill or stress. Many dogs find traditional boarding kennels highly stressful and for dogs with weakened immune systems the risk of infections are increased. By hiring a professional pet sitter, your pet won't have to come in contact with sick dogs, greatly reducing any risk of illness.
Many pets tend to get anxious once they're taken out of an environment they're familiar with while others get traumatized when they're taken on a trip. Choosing Animal Smart pet sitting means your pet won't be stressed during your trip because they will be at home. Also, there will be no changes in the environment when you hire a pet as the look and feel will remain the same, helping your feel safe and secure.
Your pet's anxiety may become worse when there's a change in schedule and professional pet sitters know how important it is to have the routine of your pet uninterrupted. In contrast, boarding facilities will feed and care for your pet on their schedule, and the more your pet's routine is changed the more stressed out he's likely to become. Before taking your pet to a boarding facility, think about how he will feel.
Although most boarding facilities promise quality playtime, there's a limit to the attention they can give to your pet since they have many pets to look after. But when you go for Animal Smart pet sitting, your pet will be pampered with the undivided attention he deserves so he doesn't feel stressed out.
While you're gone, only a professional pet sitter can give you the reassurance that your furry friend is in good hands. To provide you with peace of mind, you can ask your pet sitter to furnish you with updates in the form of emails, text messages, video calls etc. All these will make you feel more relaxed since you will know how your pet is faring in your absence.
Wrap-up
Hiring a pet sitter when you next you plan to travel or take a long vacation, consider getting in touch with us at Animal Smart Pet Care to enjoy a stress-free experience that comes with knowing your pet is getting the best care possible.