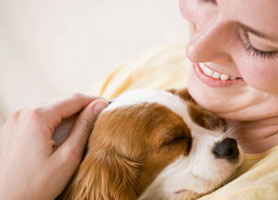 It's about time you stopped putting off that dream holiday and postponing that quick weekend getaway! At Animal Smart Wrexham, we understand that most pet parents don't like to leave their furry friends alone at home when they go out of town. Whether your concern is the possibility of getting quality services related to dog walking in Wrexham or pet sitting in Wrexham, Animal Smart Wrexham has got you covered! Here are some of the benefits of using the new pet sitting service in Wrexham. 
· Reduced risk of getting sick
One of the reasons most pet owners opt for pet sitting services over the option of driving their pet to a boarding facility is that there's less risk of their furry bestie getting infected. Since a boarding facility usually houses different pets, there's a good chance that you will return to pick a sick pet since quite a number of animal diseases are highly contagious. But when you hire a pet sitter, your pet will be taken care of alone without coming into contact with other sick dogs, greatly reducing the risk of illness. 
· Less stress for your pet
Many pets tend to get anxious and stressed when they're taken out of an environment they're familiar with, and this could make them restless, attempt to escape, lose appetite and even exhibit destructive behaviors. If your pet is afraid of traveling, it makes perfect sense to use Animal Smart petting sitting Wrexham. Your pet will feel safe and secure because the look and feel of the environment are the same.
· Maintain a routine
Pets are typically creatures of routine and may become stressed, confused, and sick if there's a change in the routine they're accustomed to. This is another excellent reason to use pet sitting service in Wrexham since a pet sitter allows your pets to maintain a routine with which they're most comfortable and secure. Whether your pet's routine includes dog walking Wrexham or being fed or given medication at a specific time, a professional pet sitter from Animal Smart Wrexham will ensure that your furry friend sticks to the routine as closely as possible. 
· Get pampered
Sure, you will find great people at boarding facilities that will promise quality playtime with your pet, but there's a limit to the attention they can give your pet since they have several other pets to look after. In contrast, consider how comfortable your pet will be at home in the care of a professional pet sitter, giving him undivided attention. Your pet will be spoiled with plenty of TLC that he deserves and to the high standards you expect.
· Enjoy yourself
Leaving a pet behind for quick weekend getaway is never easy as most pet owners continually worry about whether their four-legged friends are excited or scared, relaxed or stressed, happy, or sad. This can make it hard to enjoy yourself while you're away since you're unsure about the state of your pet. However, a pet sitter from Animal Smart Pet Care can give you the assurance that your pet is in safe hands, and even provide you with updates in the form of emails, text messages and video calls. With this, you can kick back and relax, knowing that your pet is being well taken care of by a professional pet sitter.
Wrap-up
If you're looking to travel out of town for the weekend or take a long holiday and you need a reputable pet sitting service Wrexham, Animal Smart Pet Care, can help look after your pets. You can expect the peace of mind that comes from hiring a professional, loving pet sitter.