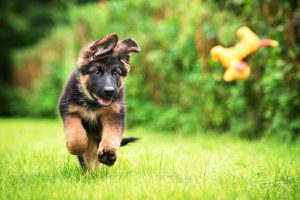 New puppies are arguably the most adorable creature on the planet, we certainly think so here at Animal Smart. With their big eyes and teddy bear appearance whose heart doesn't melt.?!
However with owning a puppy comes a dogs lifetime of responsibility. The cuteness quickly becomes mischievousness and what used to be cradled comfortably in your arms grows into a rather large and sometime boisterous lump.
To be an Animal Smart pet owner we have put together some useful information that every new owner should consider before falling in love!
It's not just about the practical factors of owning a dog and providing it food, water, exercise and care, but being a dog owner also brings some legal obligations.
Legal requirements for dog owners:
Dog Tags
Every dog that goes in a public place or highway must wear a collar with some identification on it. This isn't the dogs name and a phone number.
The legal information is the name and address of the owner, but having a phone number on there is a good idea too. Big pet shops such as Pets at Home offer a quick tag engraving service.
Microchipping
Your new puppy might not have visited the vets yet, but when they do make sure you get them microchipped, if the breeder didn't do that already. If the breeder did, they should have given you some paper work relating to the microchip and details of how to up date your owner information. Make sure you update the owner information with the company or if lost your dog will be returned to the current registered owner (possible the breeder).
If your not sure, don't worry as the vets will be able to scan your puppy to check.
Since April 2006 it has been a legal requirement for all dog owners to have their dogs microchipped.
Having a microchip implanted enables local authorities or vets locate lost, stray or stolen dogs with their rightful owners.
However for that to happen you must keep your contact details up to date on the database. So if you move house or change your phone number, remember to up date the tracking database with your new details. Or little Scamp might be taken back to your old address!
Cost considerations for dog owners:
Dog Insurance
Your new puppy may have come with 4 weeks free insurance from the breeder. This gives you a bit of time to look at options of insurance. Bear in mind that if your puppy does become ill and you allow the free insurance to expire before taking out permanent insurance, the condition your puppy was ill with may not be covered by a new policy.
There are different options for the level of dog insurance. Some only cover the payment of conditions for 12 months, after which they will no longer cover that condition meaning all future vets bills relating to that condition will be down to you. Make sure you fully understand what you are covered for.
If your dog is unfortunate to get a condition and you decide you are not happy with the current insurance provider, changing insurance companies becomes difficult, as a new company is unlikely to cover that pre existing condition.
Animal Smart Puppy Safety
Your new puppy will quickly start to find their feet and become increasingly confident and inquisitive. Their little noses and mouths get everywhere. Dishwasher, washing machine, under cars, under feet…being extra aware of where your puppy is and what they are up to during time of adjustment will help to keep your puppy safe.
If you have young children with small toys or dummies, puppies will thing these make great chewing toys…Unfortunately they make even better foreign bodies and expensive vets bills!
Get your puppy their own toys so they don't need to share those of your children. Up to around 7 months, they will be teething and will appreciate a good toy to chew on too.
You might want to invest in a stair gate. Getting up might be a challenge for some smaller breeds but getting down tricky for most young puppies, and it's a long way to fall.
Chasing up and down the stairs also puts quite a lot of additional strain on larger breeds joints, which is to be avoided during the growing phase.
Puppy Socialization and bonding
Between the ages of 8 and 16 weeks are crucial times for socialization and bonding. Having you puppy exposed to as many different things as possible during this time will help to set strong foundations for your puppy to become a happy and well behaved family dog.
Before your puppy is fully vaccinated they won't be able to go to a puppy class and meet other dogs, however as soon as you can, get your puppy enrolled in a puppy class. You might be confident in your ability to train your puppy yourself without the help of a class, but these classes are not just for teaching sit and stay. They are invaluable at teaching your puppy how to interact and behave around other dogs. If you are planning on taking your dos for walks in public places, to the park or on family trips out, you will want your puppy to learn this crucial social skills.
While your waiting for the vaccinations, expose your puppy to things within the home environment.
Phones ringing, door bells, doors banging, the washing machine spinning, the hoover, dropping of things, rolling of balls and objects, the hairdryer…
People socialization: when you have guests to your home, allow your puppy to meet as many of them as possible, including the postman. Don't allow your puppy to jump up, explain to guests to only acknowledge and reward him when all his four feet are on the ground.
Outside socializations: busses, trains, people on bikes, cows, sheep, horses…
Rewarding your puppy for your desired behavior and distracting or ignoring unwanted behaviors.
Grooming is a great way for you to establish a bond with your puppy. Getting a brush or 2 from your local pet shop is plenty for you to spend some quality 1 on 1 time with your puppy.
This is also a great time to teach your puppy to be touched all over, including ears and paws. Start to open your puppies mouth and check inside. This starts them getting used to being examined and also will make introducing teeth brushing easier too.
MOST OF ALL ENJOY YOUR PUPPY