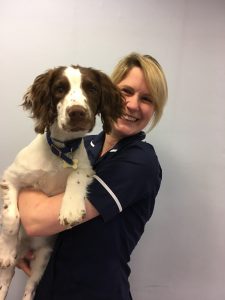 Having recently launched the Animal Smart Pet Franchise, Rachael McCooey founded Animal Smart Pet Care following her vast experience in the animal and veterinary industry. Passionate to enhance the pet sitting sector through education, Rachael is on a mission to for Animal Smart to become the most trusted pet care provider in the UK.
Rachael started her veterinary career in 2005 and graduated as a small animal RVN in 2008 and has now been registered with the RCVS for around 12 years.
Since qualifying as a veterinary nurse, Rachael went on to study further qualifications, becoming an assessor of student veterinary nurses and an internal verifier for Veterinary Nursing. In 2015, Rachael was awarded the ESVPS Certificate in Anaesthesia, and now appears on the ESVPS register of certificate holders.
Going on to study and gain the Diploma in Animal Physiotherapy Rachael spent time with various local physiotherapists, as well as with animal physiotherapy pioneer Sherry Scott MBE at The College Of Animal Physiotherapy.
Twelve years of veterinary nursing, rehabilitating patients, and further academic study have given Rachael a huge amount of experience, as well as a unique and in-depth understanding of common conditions gained by having spent so much time in theatre assisting with orthopaedic and soft tissue surgery.
Rachael has developed a particular passion for using Class IV laser therapy as part of the physiotherapy and rehabilitation of patients, and can occasionally be found guest lecturing at Warwickshire College, teaching students about the benefits of Physio and Laser therapy.
As an animal owner herself, Rachael realises how much we all love our horses, dogs and small animals – she is passionate about providing the best care for animals and is brings enthusiasm for imparting her experience and knowledge onto Animal Smart pet sitters and dog walkers so that they can provide the highest standards of pet care to clients.
Tags: animal smart, animal smart franchise, animal smart pet sitters, dog walker, pet sitter, Rachael McCooey